The Sunstate Sands Pool Render range continues to evolve and grow.
Introducing two new colours, Hampton Grey and Laguna to the stunning Sunstate Sands Pool Render range.
Distributed from Brisbane Queensland and available to domestic and overseas markets, including from our distribution network in Sydney – New South Wales, Melbourne – Victoria, New Zealand, Fiji, Vanuatu, Samoa, and the Pacific Islands.
Our e-Brochure has also been updated to include our exclusive selection of fifteen exquisite contemporary colours and is available for download.
Click this link below to download the Sunstate Sands Bundaberg Pool Render Customer e-Brochure or for further information on our Pool Render Range or other products we supply, please click here to contact us.
Talk to us about your dream pool today!
Sunstate Sands Pool Render – Customer e Brochure Nov 2023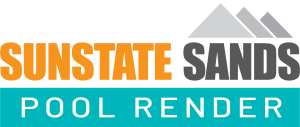 Colours and finishes depicted may vary from the actual product due to digital and printing limitations. We recommend viewing a true to life sample of the full colour range before making your selection. Pool colour intensity will also vary depending on ambient light, surrounding colours and water depth.