Sports & Recreation
We have supplied many sporting facilities with our unique blends of our washed or dried sand. The types of applications that we have supplied to are:
Golf Course bunkers
Synthetic tennis courts
Indoor and outdoor Beach volleyball courts
Playgrounds
Horse racetracks and Dressage arenas
Artificial beaches in tourist resorts
Bunker Sand
Sunstate Sands have developed a special blend using our unique silica sands to comply with the Australian Golf Course Superintendent's Association (ASGSA) specification for Bunker Sand. Also, due to our sands very white colour it gives the bunkers that high-end golf resort look. Our sand is low in salt, has a neutral pH and with it's minimal clay content does not crust on the surface. Our Bunker Blend also holds up well on the face while minimising ball penetration.
Photo for illustration purposes only.
Softfall Sand
Sunstate Sands' Soft Fall Sand is specifically manufactured for use in playgrounds and has been certified to meet the Australian Standard for Playground Undersurfacing Material AS4422:1996 (to a maximum fall height of 3 metres).
The unique sand consists of a range of sand particle sizes that allow it to 'give' upon impact – yet still retain all the great characteristics that make up a playful medium.
This cushioning effect helps break the impact of a fall when children jump from swings or playsets and allows you to produce a playground environment that allows kids to be kids!
Products Available
Playground sand, Softfall Sand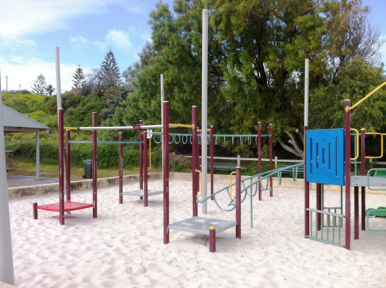 Photo for illustration purposes only.
Synthetic Grass Sand
Synthetic Grass Tennis Courts – Our specifically sized and dried synthetic grass sand is perfect for sweeping into synthetic grass to hold up the grass fibres and give the natural feel and appearance of real grass. As we have removed all of the finer sand particles, our synthetic grass sand in free running and draining and does not clog up, making it easy to apply.
Photo for illustration purposes only.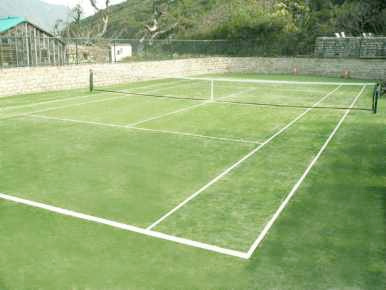 Top Dressing Sand
Top Dressing – Once again, due to the minimal amount of clay or silts naturally occurring in our sand deposit, it makes our product perfect for all types of sporting field applications. Our sand is low in salt content and is pH neutral, so it will not affect the grass that it is growing in it. Also, because the sand has had the finer particle removed, it is free draining, meaning that the water can get to the root zone where it is needed most.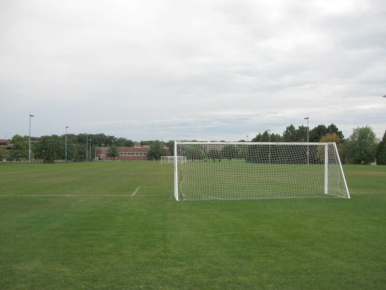 Photos for illustration purposes only.